Oppdal
Features:

Light grey with colour variations
Resistant to frost and acid
Weather resistant
Tolerates high level of stress
Easy to shape

Geography:

Restfonna, southwest of Oppdal

Age:

750

Millions of years old
Oppdal quartzite is a medium-grained gneiss-mica slate that is a variant of quartzite schist.
It is widely used in everything from private gardens and homes to large-scale projects due to its qualities and because it is so easy to work with. Spectacular projects in which it has been used include the Umeda Sky Building in Osaka, Japan; Mortensrud Church in Oslo, Norway; the railway station in Seville, Spain and Torgalmenningen in Bergen and the Skifer Hotel in Oppdal, both in Norway.
Oppdal quartzite has several shades of grey and a varying surface structure. The natural stone is hard-wearing, timeless and maintenance-free, and it is ideal for use both indoors and outdoors. It is very easy to shape and can be easily scored and then snapped/cut to obtain an almost right-angled rustic edge. This makes it ideal for products in which the edge is to be visible, such as on stairs and as bricks. It is also an attractive stone when used on exterior paving and facades, and especially on floors and walls. As brushed-finish tiles, Oppdal quartzite is a natural material that gives a completely unique look, with its distinctive yet subtle Scandinavian appearance.
Oppdal Natural

Subtly varying grey tones and surface structure, with features of quartz and light-coloured mica. The surface is heard-wearing, maintenance-free and timeless.

Oppdal Antique brushed

A brushed surface, but one which retains something of the natural roughness and rustic character.

Oppdal Silk brushed

A machined and brushed surface with a smooth finish and clear variations in colour and pattern.
Edges
Schist has inherent natural qualities that give it a unique appearance, and that can also be processed according to where and how the schist is to be used. The edges can be given different appearances. The edges can be broken, rough broken, guillotined or sawn. They can be edge-finished in various ways, like brushed, honed, rounded and bevelled.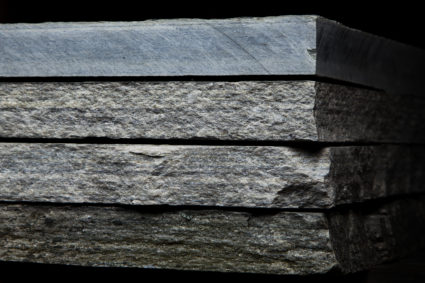 SAWN
The natural stone is sawn, which produces a smooth, right-angled and precise edge. The edge is a lighter colour than the surface of the slate.
ROUGH-BROKEN
The natural stone is broken without first being scored. The edge resembles a broken edge, but coarser and less regular.
BROKEN
The natural stone is scored and then snapped – like the process for breaking glass. The edge is not as smooth as a sawn edge, but still quite precise. In terms of colour, it is comparable with the slate's natural surface.
NATURAL
The edge is not worked, but left untouched – as nature made it. It can have various colour nuances and there may be variations in coarseness and regularity.