Offerdal
Features:

Dark grey
Resistant to both frost and acid
Very weather-resistant
Tolerates high level of stress
Beautiful reflective surface

Geography:

Finnsäter, north of Krokom in Offerdal

Age:

650

Millions of years old
Offerdal quartzite is a feldspar metasandstone quartzite.
Offerdal is used all over the world. Prestigious projects in which it has been used include the Van Abbemuseum in Eindhoven, the Scène Nationale in Guadeloupe, the Copperhill Mountain Lodge in Åre, the Tsz Shan buddhist temple in Hong Kong and Piazza Strassbourgh.
Offerdal quartzite is a hard and robust building stone with a slightly rippled, dark grey surface. Polishing the surface reveals varying tones of grey. The stone is suitable for use on exterior walls, floors, stairs and for swimming pools/spas. Its resistance to wear and tear and its non-slip properties also make it ideal for use in areas that are subjected to heavy foot traffic.
Offerdal Natural

A hard-wearing and decorative surface, which thanks to its structure and high mica content, reflects light to give an extremely attractive surface for floors, walls and facades.

Offerdal Antique brushed

A brushed surface, but one which retains something of the natural roughness and rustic character.

Offerdal Polished

A smooth and lustrous surface with an extremely attractive three-dimensional appearance.
Edges
Schist has inherent natural qualities that give it a unique appearance, and that can also be processed according to where and how the schist is to be used. The edges can be given different appearances. The edges can be broken, rough broken, guillotined or sawn. They can be edge-finished in various ways, like brushed, honed, rounded and bevelled.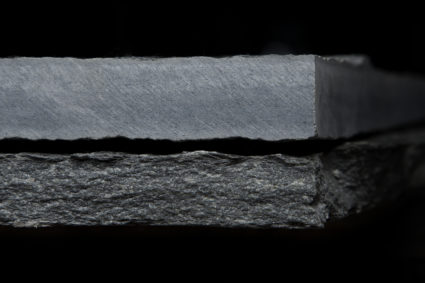 SAWN
The natural stone is sawn, which produces a smooth, right-angled and precise edge. The edge is a lighter colour than the surface of the slate.
NATURAL
The edge is not worked, but left untouched – as nature made it. It can have various colour nuances and there may be variations in coarseness and regularity.